Email sales@redhouseantiques.co.ukWeb www.RedHouseAntiques.co.ukTel 07968 287163
View All
For Sale Items, Total : 150 Page : Previous12345678910111213Next
Impressive large Arts & Crafts hall lantern with coloured glass panels to each side - three are light topaz and the panel in the door is light lilac - all appear original. It has pierced hearts to top which looks lovely when lit. It hangs on a brass hook and had a lamp fitment to the interior. Offered in excellent condition and measuring 47cms in height and 31cms square at its widest.
ID Code as179a2969
Price £395.00
Unusual Arts & Crafts brass bound studded casket with faux reptile skin beneath brass. Adorned with bronze like roundels. This has a felt lining and is offered in excellent condition except there is no key. Design is the same of top, sides and back. Most probably Austrian Last image of end has reflection and there is no discolouration. Height 12cms. Width 26cms. Depth 14cms.
ID Code as179a2968
Price £325.00
Impressively large pair of Newlyn school copper candlesticks made by the Eustace Brothers. These are 30.5cms high and have diameter of 17cms at base. The drip trays at the base have three fish to each. The shield is typical of the Eustace Brothers work. These have had the lacquer removed and are offered in excellent condition. Very unusual to find such a tall pair of candlesticks of this kind.
ID Code as179a2964
Price £475.00
Arts & Crafts stick stand in oak with a pierced heart to centre. Offered in good original condition with original drip tray. Height 104cms. Width 62cms. Depth 23cms.
ID Code as179a2963
Price £175.00
Arts & Crafts Moorish lamp table for Liberty. Made in mahogany with an octagonal top with arches beneath and a useful lower shelf. Height 67cms. The top is 44cms x 51cms. Offered in good original condition but there are marks to top as can be clearly seen in images. A very elegant and dainty design.
ID Code as179a2961
Price £345.00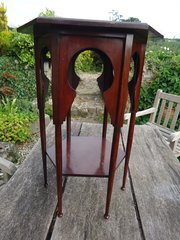 An unusually large Arts & Crafts cake stand with diamond inlay to each tray. This stand is fixed and does not move.. Offered in good condition with minor signs of use, having been cleaned and re polished. It has two professional mends to one foot but stands firm. Height 106cms. Width at feet 38cms. Each octagonal tray measures 36cms x 39cms. A great item to display many things other than cakes.
ID Code as179a2960
Price £275.00
Arts & Craft oak framed print by John Hassall circa 1900. Titled Old King Cole. Such prints or lithographs were retailed by Liberty. Offered in good condition The frame measures 75cms x 49cms.
ID Code as179a2950
Price £195.00
Arts & Crafts copper jug with one handle and decorated with ivy leaves and berries attributed to Yattendon by its handle typical df their work. Offered in good condition with a height of 18cms. The diameter at base is 11cms. and the width from jug to handle 16cms.
ID Code as179a2945
Price £95.00
Stunning Tall Arts & Crafts oak hall stand attributed to Liberty's with gorgeous pierced hearts to central drawer area. Lovely original copper on brass coat hooks. Original drip trays. Top gallery lift off for transportation. Dimensions Height 212cms. Width at top 89cms. Width at drawer height 72cms. Depth 36cms.
ID Code as179a2944
Price £895.00
Unusual and excellent quality Arts & Crafts corner hall stand with Moorish arches and a green glass door overlaid with copper. Probably Liberty. Offered in excellent original colour and condition. Height 162cms. Depth from corner to outer edge 45cms. Width across the front 64cms.
ID Code as179a2943
Price £695.00
Arts & Crafts copper mirror with a Tudor rose to each corner. This has its original bevelled edged mirror plate which is in good condition. The frame measures 59cms square and the glass is 29cms square. The copper has been cleaned but due to over zealous cleaning in its past life there is wear on two flowers as shown.
ID Code as179a2941
Price £220.00
Pretty Arts & Crafts wall cupboard with tow shelves on each side with a pierced heart to the front. Made by Shapland & Petter of Barnstaple. See similar in Daryl Bennett's book on Shapland & Petter. Offered in good condition with working key.
ID Code as179a2934
Price £295.00
Page :
Previous
1
2
3
4
5
6
7
8
9
10
11
12
13
Next
© Red House Antiques, 2020