Email sales@redhouseantiques.co.ukWeb www.RedHouseAntiques.co.ukTel 07968 287163
Miscellaneous Decorative Items
Sold Items, Total : 54 Page : 12345Next
Lovely Arts & Crafts stand or stool designed by Archibald Knox for Liberty. Offered in good used condition with verdigris. Impressed mark to top difficult to read. Great design on all sides and believed to be made by Compton Potteries. Height 41cms. The top is 37 square and at the base it measures 38cms square.
ID Code as179a3136
SOLD
Lovely set of six Arts & Crafts tiles with flower and seed heads to each under a trellis. Most probably taken from a fire place. Offered in good condition and measuring 6 inches square. Unknown maker.
ID Code as179a3063
SOLD
Pretty pair of Arts & Crafts tube lined tiles. No marking to back except the number 1502. A lovely design in soft colours depicting a stylised seed head. Each measures 16cms x 8cms and are offered in excellent condition.
ID Code as179a2996
SOLD
Gorgeous pair of vintage Arts & Crafts curtains in a Rene Mackintosh design with raised embroidery.. These have a huge amount of fabric in them and are fully lined with two lovely tie backs. These curtains are pleated then studded with buttons-a few missing. Each curtain has a width at top at pleats 150cms. Width at bottom 450cms. The drop is 165cms. Offered in very good condition. I believe this fabric is no longer available dating from the 1990s
ID Code as179a2994
SOLD
Lovely set of eight Arts & Crafts tube lined tiles with a stylised lily head over a large leaf. The registration number to the reverse is 474333 for 1906 Offered in excellent condition and measuring 6 inches square (15.5cms)
ID Code as179a2982
SOLD
Rare Arts & Crafts faux leather trinket box with a large ceramic cabochon. These were retailed by Liberty as part of their Yuletide gifts. Offered in good condition for age but showing some wear to edges. Nice fitted interior. These are quite delicate so few have survived. Height 7cms. Width 19cms. Depth 13cms.
ID Code as179a2974
SOLD
A Part set of four eight inch tiles designed by John Moyr Smith based on the Waverley novels by Sir Walter Scott 1880. Guy Mannering. Kenilworth, The Antiovary and Heart of Midlothian. All offered in excellent condition.
ID Code as179a2959
SOLD
Set of twelve Arts & Crafts children's books with covers designed by Ethel Larcombe(1876 -1940) who worked on a freelance basis for Talwin Morris. These were published by Blackie and Sons limited. Many of these bear inscriptions as a school prize. The books measure 18cms x 13cms. The condition is not so good with some wear to covers and stains to pages but they make a great display in any Arts & Crafts bookstand.
ID Code as179a2904
SOLD
Vintage pair of oak ashtrays by Robert "Mouseman" Thompson. Both showing some discolouration to centres otherwise offered in good condition measuring 10cms x 8cms.
ID Code as179a2903
SOLD.
Lovely Art Nouveau table cover of bedspread to which curtain rings have been added to hang it. Fabulous design and colour. The actual fabric measures 210cms x 160cms. I am not sure what the fabric is but it has a velvet feel and is heavy in weight. As for the condition - it has been used and has few stains and one tiny mend. Plus tassels at the border are missing
ID Code as179a2895
SOLD
Unusual Arts & Crafts wool work panel of a lake side scene of a small cottage and trees, probably Scottish. Offered in good original condition with just a few loose threads to bottom right hand corner. This measure 90cms x 52cms.
ID Code as179a2884
SOLD
Stunning Pair of Lefco jardinieres. They stand 92cms high with a diameter of 50cms at the bowl. These were made by the Leeds Fireclay company and retailed by Liberty. There is a slight variation in colour and the paler one has a chip to the base. Otherwise offered in good condition showing signs of being used.
ID Code as179a2872
SOLD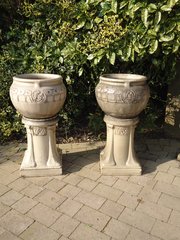 Page :
1
2
3
4
5
Next
© Red House Antiques, 2020