Email sales@redhouseantiques.co.ukWeb www.RedHouseAntiques.co.ukTel 07968 287163
View All
For Sale Items, Total : 144 Page : Previous123456789101112Next
Arts & Crafts copper lidded jar with the word "Tobacco" to lid along with stylised leaves. The base has fleur-de-lys decoration to three sides. Most probably of Cornish origin. Offered in good condition and measuring 14cms to top of brass handle and is 14cms in diameter.
ID Code as179a3092
Price £95.00
Secessionist copper wine cooler made by the Karl Deffener factory of Esslingen in Germany (1817-1877) This has stylish decoration to front and back with a piercing just below the brass handle that has the same piercing. There is a divider in the middle which is not quite strait otherwise offered in good condition. This holds two wine bottles. It is marked to the base. Height excluding handle 19cms. The base measures 17cms x 15cms.
ID Code as179a3089
Price £165.00
Arts & Crafts mahogany smokers cabinet made by Shapland & Petter of Barnstaple with stamped working lock. Lovely copper strap hinges and a great piece for the kitchen with shelves to the sides and pots and utensils could be hung below the cabinet. Offered in excellent condition. Height 44cms. Width at widest 58cms. Width at top 39cms.
ID Code as179a3085
Price £350.00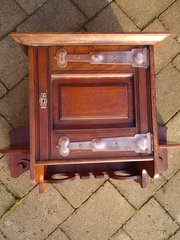 Unusual two tiered dainty Arts & Crafts plant stand in the Moorish style. Made of oak, it has the same decoration to all sides and a gallery to the lower shelf. Delightful Moorish piercings to the centre above the arches. Offered in good original condition with just a small chip to lower gallery as shown in last image. Height 77cms. The top is 30cms, The footprint at the base is 31cms square. This little plant stand has a huge amount of detail and is quite delightful.
ID Code as179a3082
Price £265.00
Pretty Arts & Craft A frame lamp table with a pierced heart to both ends. Made of mahogany with a fruit wood border. Offered in excellent condition having been stripped and re finished. Dimensions - Height 70cms. The top is 56cms x 40cms.
ID Code as179a3080
Price £165.00
An unusual Aesthetic movement bamboo table gong with striker. Offered in good original condition with just the striker showing some wear. Height 32cms. Width 33cms. Depth 18cms.
ID Code as179a3079
Price £95.00
Set of four Aesthetic movement blue and white transfer printed tiles buy Helen Jane Arundel Miles circa 1897. They represent the seasons - January,February, September and October. Three are impressed Josiah Wedgewood and Sons Etruria - Old English and the October one has a plain back. All are offered in good condition with just slight wear to a few corners. The measure 6 inches square approximately with two a fraction of an inch smaller - hard to see.
ID Code as179a3068
Price £165.00
Postage included within the UK
Lovely Arts & Crafts lustre tile made by Craven Dunnill at Jackfield, the same town as Maw & Co. This tile has a nibble to one corner and a chip to another as shown. The surface of the tile is in good condition. If framed the damage at the two corners would not show. This measures 6 inches square.
ID Code as179a3061
Price £85.00
Postage within the U.K included
Arts & Crafts copper mirror with studs and a delightful stylised flower and leaves to centre top and raised cabochons to each side of base. Offered in a good clean condition perhaps with slight loss of definition due to previous zealous over cleaning. There is a slight loss of copper to lower right above the cabochon. It has its original bevelled edged mirror plate and back. I am fairly sure that this design was retailed by Liberty. Height of frame 50cms x 34cms. Width 34cms. The glass measures 34cms x 24cms.
ID Code as179a3059
Price £425.00
Pretty Arts & Crafts oak book stand with three embroidery panels in green with flowers. Lovely stylish pierced sides. Height 87cms. Width 38cms. Depth at feet 29cms. Offered in good condition with a professional mend as shown in lst image.. Lovely for books and CDs.
ID Code as179a3049
Price £265.00
A rare Arts & Crafts copper ink stand with a triangular base standing proud on three legs and decorated with Glasgow school designs. Made by F & J Pool of Hayle in Cornwall. Offered in excellent condition but without a liner. Height 9cms. The sides at the base are 21cms and at the top 10cms.
ID Code as179a3047
Price £185.00
Price included postage within the U.K.
Pretty Arts & Crafts Octagonal copper mirror with roses. This has its original bevelled edged mirror plate and is offered in good condition with just minor creases to copper at two points and some marks to glass. The mirror measures 53cms x 57cms and the glass is 43cms in diameter.
ID Code as179a3046
Price £225.00
Page :
Previous
1
2
3
4
5
6
7
8
9
10
11
12
Next
© Red House Antiques, 2020