Email sales@redhouseantiques.co.ukWeb www.RedHouseAntiques.co.ukTel 07968 287163
Metalware
For Sale Items, Total : 59 Page : Previous12345
Lovely Arts & Crafts copper coal bucket profusely decorated with stylised flowers. Good heavy and well made item offered in good condition. Height to rim without handle 31cms. The top is 39cms x 31cms.
ID Code as179a2681
Price £345.00
Unusual large Arts & Crafts copper jardiniere decorated with flowers and leaves and most probably the work of John Williams for Fivemiletown. Good heavy items measuring 22cms in height with a diameter at the top of 25cms. Great for a plant but could also serve as an ice bucket.
ID Code as179a2607
Price £295.00
Lovely Arts & Crafts copper tray with pierced gallery and a fish and shell decoration. Stamped NEWLYN. It measures 49cms in length and 26cms wide with a depth of 5cms at he handles. Offered in good condition and has only been lightly cleaned but some marks remain in certain light which would probably move with further cleaning.
ID Code as179a2601
Price £145.00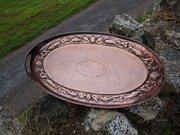 Pretty Arts & Crafts copper jardinière by J & F Pool of Hayle in Cornwall. This planter has the heart decoration on two sides and the seems on two sides. It stands 16cms high and has a maximum diameter of 24cms. The internal opening is 15cms. Offered in a good clean condition with just minor dings.
ID Code as179a2586
Price £185.00
Unusual Arts & Crafts charger with three panels depicting different scenes of a hare hunt. One is of the hares, the second of the hounds and the third of the huntsman with a gun. Most probably made by J & F Pool of Hayle in Cornwall. offered in good condition with a diameter of 60cms. Would make a nice tray table and I could find a base for it if desired.
ID Code as179a2569
Price £195.00
Stunning and very rare large copper lidded bucket with handles unique to the Keswick school of Industrial Arts. Superb quality repousse work which is different on both sides with various designs of scrolled acanthus leaves. It measures 40cms to the top of the lid at the brass finial. The maximum width is 39cms. Offered in good condition with just some dings at rim and base as to be expected.
ID Code as179a2548
Price £475.00
Superb Arts & Crafts copper planter on stand which would work perfectly to cool your champagne as well. The pot sits on a beautifully made copper four legged base and is offered in excellent condition. The total height is 45cms. The width at base is 24cms. The pot itself is 15cms in height and has a diameter of 20cms. Both beautiful to look at and versatile as well.
ID Code as179a2463
Price £295.00
Rare set of five Arts & Crafts steel fire tools attributed to Archibald Carne, the blacksmith of Truro (1897 - 1968) Carne exhibited at the Newlyn Gallery and also at the Red Rose Guild in Manchester. This set comprises of a brush, poker, tongs. shovel and unusually a chestnut roaster which has copper rivets. All in polished steel and in excellent condition with an average length of 54cms.
ID Code as179a2452
Price £295.00
A Fabulous pair of Arts & Crafts Andirons. The fronts are oak with a large turquoise cabochon and these are set on a brass frame. The height is 41cms at the front. The width is 20cms and the depth 24cms. Offered in excellent condition with just one minor chip to back of top of one oak cap. There is the tiniest chip to one cabochon as shown. These would enhance any fireplace and there must be some brass fire irons just waiting to sit on them. It appears that they were once attached to a fire surround as can be seen from the undersides.
ID Code as179a2393
Price £295.00
Unusually large Arts & Crafts copper games box with a cedar wood divided interior and profusely decorated with stylised hearts attributed to J & F Pool of Hayle in Cornwall. This has lovely riveted corners and is the largest casket that I have ever seem made by the Pool brothers. Offered in good condition with just a small movement of the wooden interior. Height 13cms. Width 37cms and the depth is 25cms
ID Code as179a2299
Price £575.00
Pair of American Arts & Crafts Cat cast iron Andirons in original stone back paint. The original design being Howes in Boston. These were made in Tennessee and impressed accordingly. The cats have glass marble eyes that reflect the light of the fire. Height 41cms. Depth 40cms. Width at depth 18cms.
ID Code as179a1819
Price £395.00
Very heavy - would be delivered via courier.
Page :
Previous
1
2
3
4
5
© Red House Antiques, 2020