Email sales@redhouseantiques.co.ukWeb www.RedHouseAntiques.co.ukTel 07968 287163
View All
Sold Items, Total : 1680 Page : Previous181920212223242526272829303132Next
Lovely Arts & Crafts table attributed to Arthur Simpson and originally from St Thomas Church in Kendal with a brass plaque showing that it was gifted to the Church. Offered in an excellent used condition. Perfect as a serving, hall or Kitchen table. Height 77cms. Width 122cms. Depth 77cms.
ID Code as179a2685
SOLD
Lovely Arts & Crafts copper mirror with a tulip to each side in the manner of Liberty and a heart to the centre. Offered in good condition and measuring 60cms x 46cms. The mirror plate and backing have been replaced.
ID Code as179a2684
SOLD
Stunning Arts & Crafts copper mirror with spades to each side and hearts to top and bottom. Lovely studded detail and attributed to Liberty. Offered in good condition some loss of silvering to original bevelled mirror plate. Dimensions Height 47cms. Width 38cms. The mirror plate measures 31cms x 22.5cms.
ID Code as179a2680
SOLD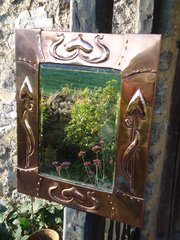 Lovely Arts & Crafts brass charger decorated with a Persian pattern of exotic birds and attributed to the Keswick school of Industrial Arts but is not marked accordingly. Excellent quality item and in perfect condition. This measures 47cms in diameter and has a depth of 3cms.
ID Code as179a2679
SOLD
Arts & Crafts poker work mirror (Pyrography). Good large size measuring 92cms x 68cms. The mirror plate might be a replacement and measures 71cms x 48cms. Offered in good condition with a few dings to corners. The backing has been replaced. Currently hung as portrait but could easily be changed.
ID Code as179a2678
SOLD
An unusual Arts & Crafts brass lidded jar. .
ID Code as179a2677
SOLD
Unusual pair of pegged oak book tables with useful oval shelves with lipped edges. Perfect for each side of a chair. Offered in good original condition. Height 69cms. Width at pegs 54cms, Depth 28cms. Height of shelf for books 24cms.
ID Code as179a2676
SOLD
Arts & Crafts oak bookcase with Gothic Arches to sides. It stands 124cms in height with a width of 65cms and depth of 23cms. The height of all the shelves is 30cms. Offered in good original condition and has not been stripped.
ID Code as179a2674
SOLD
Charming Victorian oak rocking fireside chair in totally original and much loved condition with primitive repairs to base. Height 84cms. Width at arms 58cms. Depth 57cms. Seat height 34cms. Internal width between arms at base 35cms/ Size indicates that it was probably a ladies chair.
ID Code as179a2673
SOLD
Unusual Arts & Crafts oak "Breakfast in Bed" tray with Celtic Knot carvings to top. Offered in good original condition with just one tiny chip to front. Width 71cms. Depth 46cms. Height 20cms to top of gallery.
ID Code as179a2672
SOLD
Arts & Crafts oak glazed bookcase with leaded glass panels and pretty inlay flowers inside a heart to top. There are two adjustable shelves and the doors have a working lock. Offered in a good original condition with original finish which has minor scuffs. The back has been replaced and is not oak. Height 137cms. Width 117cms. Depth 33cms. The depth for books inside is 22cms.
ID Code as179a2671
SOLD
Pretty Arts & Crafts copper inkstand with raised enamel decoration to border. The glass inkwell is fixed. Offered in good condition with a few stubborn marks remaining to well. Height to top 10cms. The base is 14cms x 14cms. Probably continental.
ID Code as179a2670
SOLD
Page :
Previous
18
19
20
21
22
23
24
25
26
27
28
29
30
31
32
Next
© Red House Antiques, 2020