Email sales@redhouseantiques.co.ukWeb www.RedHouseAntiques.co.ukTel 07968 287163
View All
Sold Items, Total : 1680 Page : Previous161718192021222324252627282930Next
Pretty Arts & Crafts copper newspaper holder by J & F Pool of Hayle in Cornwall, with a Glasgow school motif to front and NEWS to top. Height excluding ring 22cms. Width 21cms and a depth of 10cms. Offered in good condition with a repair to ring at back.
ID Code as179a2723
SOLD
Beautifully Arts & Crafts oak casket with seed heads, daisies and leaves carved to all sides. Offered in excellent condition and measuring 15cms in height, 27cms wide and 17cms in depth. There is no key.
ID Code as179a2722
SOLD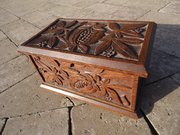 A lovely set of four Arts & Crafts tiles with stylised flower heads in the shape of heart. Marked to reverse L & B.T. England, possibly William Adams for Lea and Bolton. Offered in good condition with one small chip to reverse of one which does not show at its front. They are 6 inches square or 15cms.
ID Code as179a2721
SOLD
An usual Arts & Crafts pottery plaque made by Denise Wren (1891 - 1971) at the Oxshott Potteries in Surrey. Denise was born in Australia and emigrated to England where she was taught by Archbald Knox at the Kingston Upon Thames School of Art. After her marriage she set up the Oxshott potteries with her husband. This little plaque measures 12cms x 9cms and is 1cms deep.
ID Code as179a2719
SOLD
A beautiful Arts & Crafts embroidery titled "The Daisy Chain" in its lovely carved oak easel frame of a daisy to the top and a daisy with a pierced stem to each side. The embroidery features a child offering a daisy to a lady. This stands on an easel frame and is 92cms high with a width of 72cms. The embroidery is 60cms x 34cms. Whilst the frame is in perfect condition, the embroidery, which has been done in silk, has never been glazed over and has suffered over its hundred years plus life. This is really the epitome of the Arts & Crafts era and when made was truly a work of art.
ID Code as179a2716
SOLD
Arts & Crafts oak lamp table with an octagonal top sitting on four pierced legs with hearts. This stands 68cms high with the top measuring 46cms x 48cms. Offered in excellent condition having been stripped and re finished
ID Code as179a2714
SOLD
Lovely Arts & Crafts oak bureau retailed by Liberty & Co with ivoriine label to drawer. This bureau is illustrated in Darly Bennett's book on Liberty furniture, Made in quarter sawn oak the grain shows beautifully now that it has been cleaned and waxed. Delightful pierced hearts to gallery. Height 119cms, width 71cms, depth 36cms at body and 39cms at feet, The writing height is 73cms. Offered in good condition with working lock although the lock is a little stiff.
ID Code as179a2712
SOLD
Stunning Arts & Crafts oak bookcase with feathered inlay to sides and a bold design of ebony and satinwood squares to top. Useful top shelf for magazines Made by Shapland & Petter of Barnstaple and most probably retailed by Heals. Height 99cms. The top is 51cms square. The top shelf has a height of 12cms. The middle ones are 23cms high and the lower ones 29cms high. Offered in good original condition having been cleaned and waxed.
ID Code as179a2711
SOLD
Pretty Arts & Crafts oak dresser base with copper handles, strap hinges and stylised butterflies. This stands 95cms high, The width is 139cms and the depth 53cms. This would be a good dresser for a kitchen as its not the best quality of the oak and it would have originally had a top and the holes can be seen on the top. Worm free but some dings. The locks do not work but the door snap shut. It has had a hard life! Never the less a very decorative item and the price reflects the condition.
ID Code as179a2706
SOLD
Arts & Crafts oak chair designed by William James Neatby 1860 - 1910. with a stylised tree to back/ Offered in good condition having been stripped and refinished and and is a lovely golden oak. Height 100cms. Width at front of seat 45cms. Depth 42cms with a seat height of 47cms.
ID Code as179a2705
Price £165.00
Reserved
Arts & Crafts oak Sedley pegged bookcase for Liberty. The sides have trefoil piercing and the four shelves are held tightly into place with pegs. Height 117cms, Width at pegs 84cms. Depth 23cms. The height of the shelves are: Bottom 28.5, Middle 25cms and top 23cms. Offered in good condition having been stripped and re finished however two tiny chips remain.
ID Code as179a2703
SOLD
Unusual Arts & Crafts two handled vase attributed to Obed Nicholls Newlyn industrial class. It has lovely wide handles and a stylised tulip design. Newlyn items were not marked until 1908 when registration was required. Many of the earlier items are individual and slightly more primitive and not the mass produced items that were made more commercially later on. This has a rare design and is offered in a totally uncleaned and good original condition and is a good collectors item. Height 20cms. Width at handles 23cms. Diameter at base 10cms.
ID Code as179a2702
SOLD
Page :
Previous
16
17
18
19
20
21
22
23
24
25
26
27
28
29
30
Next
© Red House Antiques, 2020