Email sales@redhouseantiques.co.ukWeb www.RedHouseAntiques.co.ukTel 07968 287163
View All
For Sale Items, Total : 150 Page : Previous12345678910111213Next
Rare World War II revolving desk stand made of oak with the copper and brass section turning and in the shape of an aircraft hangar. Stamped to base E C & Co Ltd 1941 for E. Camelinat of Birmingham who made Brodie helmets for the troops. Interesting as both the use of brass and copper was restricted during this year to war use only. One side holds and inkwell for three pens and the other side two small shelves for stamps or paper clips Very well made and offered in excellent condition. The base measures 23cms x 17cms and it stands 10cms high.
ID Code as179a2743
Price £265.00
Unusual Arts & Crafts copper tray depicting a swimming swan. Attributed to Newlyn before it was compulsory to mark metal in 1908. Offered in good condition and measuring 16cms x 9cms.
ID Code as179a2730
Price £55.00
Postage included within the U.K.
Set of four Aesthetic movement tiles in the manner of Dr Christopher Dresser with a large urn to centre with leaves and a daisy to each corner with a rising sun. Marked to reverse only with a H. Offered in reasonable condition with nibbles to some corners and a few surface knocks. Each measures 6 inches square or 15cms.
ID Code as179a2715
Price £95.00
Unusual Arts & Crafts Scottish school brass jardiniere or fruit bowl.This stands on four round feet and has lovely sweeping handles and decorated to both sides with stylised leaves. Height at handles 17cms and at the centre 11cms. Width 45cms. Depth 12cms. Offered in good condition, just minor wobble front to back.
ID Code as179a2710
Price £95.00
Unusually large American Arts & Crafts arm chair in oak with newly upholstered green leather seat and lovely wide arms. Offered in good condition having been cleaned and waxed. Height 111cms. Width at front of arms 72cms. Depth 66cms. Seat height 47cms. Very comfortable. Believed to be American.
ID Code as179a2704
Price £695.00
Lovely Arts & Crafts copper coal bucket profusely decorated with stylised flowers. Good heavy and well made item offered in good condition. Height to rim without handle 31cms. The top is 39cms x 31cms.
ID Code as179a2681
Price £345.00
Arts & Crafts Caxton Folio or magazine stand for Liberty in Oak as illustrated in Daryl Bennett's book on Liberty furniture. The height to the top of the brass handle is 82cms. Width 43cms. Depth 27cms. Offered in good original condition, One small drawer opens as shown and the other is a dummy.
ID Code as179a2669
Price £395.00
Arts & Crafts octagonal table with pierced slatted sides with spade decoration. Height 57cms. The top is 48cms x 52cms. Offered in good condition however there is one mend to base as shown. The wood appears mahogany.
ID Code as179a2665
Price £165.00
Unusual Arts & Crafts copper mirror with ribbon overlay and a ceramic plaque to each side which appear to be Wedgewood. This measures 51cms wide x 60cms deep. The mirror plate which looks original measures 43cms x 33cms. Offered in good condition with original wooden back
ID Code as179a2630
Price £295.00
Unusual Arts & Crafts letter rack in oak with turquoise cabochons behind a decorative brass overlay. This measures 24cms high and 29cms wide. The depth is 12cms with two divides. Offered in good condition with a minor bruise to top.
ID Code as179a2621
Price £145.00
Postage included within the UK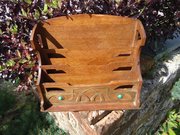 Unusual large Arts & Crafts copper jardiniere decorated with flowers and leaves and most probably the work of John Williams for Fivemiletown. Good heavy items measuring 22cms in height with a diameter at the top of 25cms. Great for a plant but could also serve as an ice bucket.
ID Code as179a2607
Price £295.00
Lovely Arts & Crafts copper tray with pierced gallery and a fish and shell decoration. Stamped NEWLYN. It measures 49cms in length and 26cms wide with a depth of 5cms at he handles. Offered in good condition and has only been lightly cleaned but some marks remain in certain light which would probably move with further cleaning.
ID Code as179a2601
Price £145.00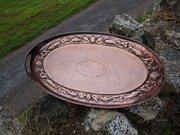 Page :
Previous
1
2
3
4
5
6
7
8
9
10
11
12
13
Next
© Red House Antiques, 2020