Email sales@redhouseantiques.co.ukWeb www.RedHouseAntiques.co.ukTel 07968 287163
View All
For Sale Items, Total : 144 Page : 123456789101112Next
Lovely pair of Arts & Crafts chairs in oak with a triple spade piercings to back - a design used in much of Liberty's designs. Offered in a good and firm condition, they have been fairly recently upholstered although one is very slightly faded Height 109cms. Seat height 48cms. Width at arms 71cms. Arm height 62cms.
ID Code as179a3214
Price £345.00
Unusual pair of tall Arts & Crafts triple tiered oak plant stands with a pierced cockerel head to each side and its comb decoration to the middle shelf. A delightful and very stylish design. Offered in good condition. Height 115cms. The top measures 28cms. The height of the top shelf is 17cms and would take a small pot.
ID Code as179a3213
Price £525.00
Stunning Arts & Crafts copper coal box by J & F Pool of Hayle in Cornwall. It is rare to have its original matching shovel made by them in copper. A delightful design adorned with ships. Offered in excellent condition without a liner. Height at handle 34cms. Width 30cms. Depth 39cms.
ID Code as179a3212
Price £475.00
Arts & Crafts round copper mirror with both a brass and copper Fleur-de-lys decoration. This has its original bevel edge mirror plate and metal back. Offered in good condition with some age marks to glass. The frame measures 54cms in diameter and the glass 44cms in diameter All our mirrors are sent via courier and not mailed
ID Code as179a3210
Price £175.00
An unusual Arts & Crafts oak planter with decorative piercings to all sides. The sides shelves open on two chains to give further space for smaller plants. Offered in good condition with a few minor 0ld water stains. This could be used for magazines if desired. Heigth 69cms. Width when closed 37cms, width when opened 76cms, depth 35cms.
ID Code as179a3209
Price £245.00
Beautiful Arts & Crafts brass mirror with yin-yang roundels to four sides. Offered in excellent condition which would grace any wall. The frame measures 64cms x 52cms.
ID Code as179a3208
Price £475.00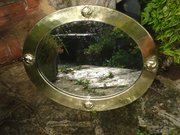 An unusual pair of Irish Arts & Crafts oak planters with inset brass panels with birds on both sides in the style of Fivemiletown. These have zinc liners which lift out with handles and are offered in good condition showing minor wear. They would be perfect for herbs. They stand 18cms high and 53cms wide at the handles. The depth is 15cms..
ID Code as179a3207
Price £420.00
Unusual small Arts & Crafts copper mirror with a wavy decoration and raised corners. This has its original bevelled edged mirror plate and is offered in a good clean condition The frame measures 35cms x 30cms and the mirror plate 20cms x 15cms.
ID Code as179a3206
Price £295.00
Liberty Arts & Crafts high back spindle chair with brass studded detail. This design was retailed by Liberty & Co as part of their yuletide gifts. Some were upholstered and some with the spindle back visible. This chair would really make a statement in any room. Offered in good condition with minor loss of finish to the beech frame. Height 98cms. Width at arms 60cms. Seat height 41cms.
ID Code as179a3205
Price £275.00
Unusual Arts & Crafts silver plated charger decorated with apples and pears to the border. The silver plating appears to be over brass and is of good quality and heavy weight. Offered in a good uncleaned condition and measuring 46cms in diameter.
ID Code as179a3204
Price £275.00
Pretty Arts & Crafts Celtic pen work table with delightful entwined humorous dragons to the top so most probably Welsh. Lovely workmanship and offered in good condition and vibrant colour with just minor ware to top. Height 63cms. The top measures 36cms square.
ID Code as179a3200
Price £175.00
Stunning large 24 inch copper charger attributed to John Pearson although unmarked. Typically decorated with his stylised holly leaves, flower heads and studded border. Offered in excellent condition, but unfortunately cleaned as it was badly lacquered and the pattern had lost its definition. It has a ring to the reverse which might be a later addition which allows it to be hung. It measures 61cms in diameter (24 inches ) with a deep well.
ID Code as179a3199
Price £875.00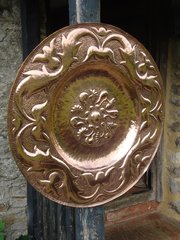 Page :
1
2
3
4
5
6
7
8
9
10
11
12
Next
© Red House Antiques, 2020