Email sales@redhouseantiques.co.ukWeb www.RedHouseAntiques.co.ukTel 07968 287163
Miscellaneous Decorative Items
For Sale Items, Total : 13 Page : 12Next
Pretty pair of Arts & Crafts tube lined green tiles with a stylised flower to centre. These measure 15cms x 10cms or 6 inches x 4 inches. Offered in good condition We are selling these in pair although another four are available. Price is for the pair.
ID Code as179a3116
Price £60.00
Postage within the UK included
Pretty Arts & Crafts poker work stationery cabinet. Two door open to reveal multiple holders and adorned with flowers. The back is not decorated. Offered in good condition. Height 27cms. Width 30cms. Depth 9cms.
ID Code as179a3114
Price £125.00
Lovely Arts & Crafts lustre tile made by Craven Dunnill at Jackfield, the same town as Maw & Co. This tile has a nibble to one corner and a chip to another as shown. The surface of the tile is in good condition. If framed the damage at the two corners would not show. This measures 6 inches square.
ID Code as179a3061
Price £85.00
Postage within the U.K included
Four Crown Ducal "Orange Tree" cup, saucers and plates. Offered in good condition with just minor nibbles to back of plates. The plates measure 18cms. The saucers are 14.5cms and the cups excluding handles are 9cms. One of the best designs of the Arts & Crafts period.
ID Code as179a3060
Price £45.00
This price includes postage within the U.k.
Two novelty inlaid cigarette dispensers. The larger one has inlay to top and four sides and inner top. When opened the bird lowers and picks up a cigarette. Height 11cms. Width and depth 10cms. The smaller one has a pair of terriers to the top and a carved face to front. The top tolls backand the front comes out with a cigarette. Height 7cms. Width 10cms. Depth 12cms. Both offered in a good used condition. Could be used for rolled up bank notes!
ID Code as179a3053
Price £85.00
Will sell separately. Postage included within the U.K.
Here we have collection of tiles dating from the Arts & Crafts era. Some with a delightful floral design. All are six inches square and are offered in good condition with minor nibbles to edges. Only the top left tile has marks to back and that is of Minton Hollins.
ID Code as179a3029
Price £125.00
Postage included within the U.K.
An unusual Aesthetic movement butler's tray which has been carved and then has added poker work. It has superb decoration of tulips, roses, daffodils and many more flowers and strong brass hinges with pierced squashed handles to two sides. This appears to be made of walnut though is very heavy. Offered in good condition except for a repair to one hinge and damage to the reverse where someone has tried to attach legs. Open it measures 77cms x 59cms. When closed it measures 59cms x 40cms and has a height of 11cms. It has no stand.
ID Code as179a2924
Price £225.00
Price reflects repair.
Set of 42 unused Retro 1970's Spanish wall tiles with a slightly blurred abstract pattern. These are almost perfect. One image shows an additional five tiles with very minor nips to corners. They measure 6 inches square and quarter of an inch deep. These were made for the British market. Made by Villarreal in Castellon, Spain.
ID Code as179a2893
Price £195.00
Lovely eight tiled set of Minton tiles designed by Henry Stacey Marks (1829 -1898) Believed to me called Solo. it depicts a pre-Raphealite lady covering her ears next to her squawking parrot in beautifully soft pastel colours. Henry ad a particular passion in painting colourful birds, especially parrots, The tiles measure 63cms x 31cms and are backed onto a wooden panel Condition - chip to third tile down on right hand side and thin crack to top right tile and a small chip to lower right.
ID Code as179a2787
Price £295.00
Unusual Arts & Crafts letter rack in oak with turquoise cabochons behind a decorative brass overlay. This measures 24cms high and 29cms wide. The depth is 12cms with two divides. Offered in good condition with a minor bruise to top.
ID Code as179a2621
Price £145.00
Postage included within the UK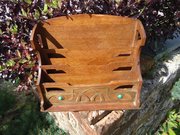 Set of Four maroon Arts & Crafts tiles in the Secessionist style with raised stylised flowers. Offered in good condition but with a few nibbles as shown. Measuring 6 inches square. Impressed England and reg number to reverse starting 433394 The image in the darker images portray the correct colour.
ID Code as179a2259
Price £75.00
Postage within the U.K, included
Attractive set of six Arts & Crafts floral tiles. Offered in good condition with just minor nibbles to some edges. They measure six inches square.
ID Code as179a2230
Price £125.00
This price includes postage within the U.K.
Page :
1
2
Next
© Red House Antiques, 2020