Email sales@redhouseantiques.co.ukWeb www.RedHouseAntiques.co.ukTel 07968 287163
Furniture
For Sale Items, Total : 56 Page : 12345Next
Stylish Arts & Crafts Glasgow school oak high back armchair with a studded seat. Attributed to Wylie & Lochhead and is of the style of chairs designed by E. A Taylor. Offered in good condition and colour. Height 119cms. Arm height 70cms. Seat height 46cms. Width at arms 50cms.
ID Code as179a3178
Price £325.00
Unusual Arts & Crafts oak plant stand with pretty piercings to legs and apron. A usual design, well made with a raised top. Offered in good condition but there are a few white spots which looks like old filler. Height 85cms. The top is 36cms in diameter. The footprint at the base is slightly wider.
ID Code as179a3174
Price £150.00
Lovely Arts & Crafts desk chair or carver in oak with a pierced heart to centre back which is shaped to make a very comfortable back support. Offered in good condition and colour with a studded brown seat which appears to be leather. Height 102cms. Width at arms 60cms, Seat height 47cms. Arm height 74cms.
ID Code as179a3173
Price £245.00
Delightful small Arts & Crafts poker work table painted with different fruit and a pierced moon and star to each side. Many of these were retailed by Liberty. Offered in good condition with minor scuffs to corners. Height 37cms. The top measures 25cms x 26cms.
ID Code as179a3172
Price £120.00
This table could be posted
Arts & Crafts green stained ash chest of drawers made by Shapland & Petter of Barnstaple. The locks are stamped and there is the registration mark to the back. Both Shapland & Petter and Heals produced a range of green stained furniture, some of which was retailed by Liberty. Offered in good condition with a little sun fading to sides. Height 118cms. Width 112cms. Depth 54cms.
ID Code as179a3171
Price £650.00
Stunning and very rare tall Arts & Crafts two seater oak settle with a rush seat and back made by William Birch of High Wycombe for Liberty & Co. Offered in excellent condition with just a small scratch to left arm as shown. The rush is firm with no breaks. Height 146cms. Width 127cms. Depth 63cms. Arm height 67cms. Sear height 46cms.
ID Code as179a3170
Price £1950.00
Rustic Arts & Crafts copper lidded work box. This has been made in a very primitive way but is an interesting decorative and useful table. The copper lid has some marks and a scratch which cannot be seen clearly because of the reflection. The side panels are made of thin wood with a centre raised copper roundel. The wood has been badly painted in black. I have chosen not to repaint it as I feel another colour would work better to match the purchaser's decor. The interior has no lining with the top padded as was used as a work box. With some TLC this would be a lovely addition to any room. If you want an item in perfect condition please do not consider this. Heigth 65cms. Width 56cms. Depth 41cms.
ID Code as179a3169
Price £225.00
Arts & Crafts oak planter with copper bands fixed with brass studs. It has capped columns to each corner and a useful lower shelf. Standing 90cms high. The top is 32cms square at the caps. The internal measurement is 25.5 cms. Offered in excellent condition having been stripped and refinished. These are often attributed to Shapland & Petter as they made very similar ones. Great for a large fern or similar.
ID Code as179a3167
Price £295.00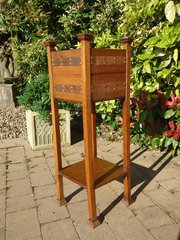 Arts & Crafts Sedley oak pegged bookcase for Liberty. This has trefoil cut outs to the sides. Offered in excellent condition having been stripped and re finished to a lovely honey colour. A very near match to one listed previously should you wish for a pair. Height 98cms. Width at pegs 59cms. Depth 20cms. Shelf height 27cms Interior width 51cms.
ID Code as179a3165
Price £345.00
Arts & Crafts oak armchair designed by William James Neatby (1860 - 1910). with a stylised tree to back. This would make a great desk chair. Offered in good condition having been stripped and refinished. It has a newly upholstered drop in dark green leather seat. There is a professional mend to top right as shown. The oak is quite dark. Height 110cms,Seat height 47cms, arm height 70cms. Width at arms 64cms.
ID Code as179a3163
Price £325.00
Arts & Crafts revolving coat stand in oak. The top five hooks with rams heads revolve and beneath there are three hooks for smaller items. To the base there is a stick stand with its original metal drip tray. A very useful addition to any hall. Offered in good condition. The rams heads hooks are not original. Height 173cms.
ID Code as179a3162
Price £595.00
We offer a courier delivery service to most parts of mainland UK
Arts & Crafts oak book table with lattice work to sides and a useful middle shelf. This model has the more desirable flat top and is in great condition and a really good colour. This sits of four original ceramic castors. Designed by Leonard Wyburd for Liberty. Height 79cms. Width 59cms. Depth 34cms.
ID Code as179a3161
Price £275.00
Courier delivery available. Price on request.
Page :
1
2
3
4
5
Next
© Red House Antiques, 2020