Email sales@redhouseantiques.co.ukWeb www.RedHouseAntiques.co.ukTel 07968 287163
Furniture
For Sale Items, Total : 55 Page : 12345Next
Arts & Crafts oak settle for Liberty. This has stenciled Dutch children to the front and a cut out heart to each end for lifting. The seat lifts up for storage. Offered in good condition having been stripped and re finished to a lovely honey colour. Height 7cms. Width 8cms. Depth 42cms. Seat height 48cms
ID Code as179a3141
Price £550.00
Arts & Crafts oak plant stand in the Moorish style. This has been stripped and re finished and is offered in excellent conditio Height 80cms. The top measures 28cms square
ID Code as179a3137
Price £175.00
Arts & Crafts garden table in teak made by John Parish White (1855-1917) at Pyghtle works. A lovely design with pierced hearts to apron on all sides. Sometimes this design is attributed to Baillie Scott. Offered in good condition but having been outside has turned green in some place adding to its appeal. Height 71cms. The top measures 38cms square. Lets hope the good weather arrives soon and we can enjoy eating outside!
ID Code as179a3134
Price £650.00
Elegant round two tiered oak plant stand. Offered in good original condition and measuring 100cms in height with a diameter at the top of 36cms. Very minor split to top as shown.
ID Code as179a3132
Price £165.00
Arts & Craft copper and oak book trough with motto reading - Books like friends should be few and well chosen. it has a Tudor rose to top and bottom. The oak frame is covered with copper on three sides. Offered in a good uncleaned condition. This measures 13cms high, 28cms wide and 14cms deep.
ID Code as179a3131
Price £445.00
Arts & Crafts lamp table or plant stand in oak standing on three legs pierced with hearts. Offered in good original condition. It has not been stripped so there are some marks to top but the colour is good. Height 66cms. The octagonal top measures 39cms x 42cms.
ID Code as179a3129
Price £195.00
Pretty Arts & Crafts poker work wall cabinet carved with flowers to sides and front. This has two useful shelves above the cupboard and the cupboard has a working lock and key. Offered in good condition but with some stains in the lower shelf of the cupboard. Made of mixed woods and measuring 46cms in height. Width 37cms. Depth 20cms. The internal cupboard is 20cms high. There are two holes in the back for handing.
ID Code as179a3127
Price £125.00
Arts & Crafts pegged oak table. The top has been stripped and re polished showing its lovely grain and leaving the base original which makes a nice contrast. A good size for a writing table of on which to stand a large object. Perhaps a dining table for two! Offered in good condition. This stands 70cms high with a width of 82cms and a depth of 59cms.
ID Code as179a3125
Price £425.00
Beautifully carved Anglo Indian Arts & Crafts table with a octagonal top. Made of padouk wood, the carving is quite lovely with shells and a geometric pattern. Offered in good condition with minor fading to the top. Height 62cms. The top measures 55cms x 59cms
ID Code as179a3122
Price £195.00
Pair of Arts & Crafts pegged bookcases in oak and ash with piercings to top gallery. Offered in good condition having been stripped and re polished. Height 100cms. Width at pegs 65cms. Interior width 52cms. Depth 19cms. All the shelves have a height of 26cms.
ID Code as179a3119
Price £450.00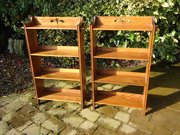 Arts & Crafts oak magazine stand with a heart to each end and chequered inlay to both sides. Most probably retailed by Liberty Offered in good original condition. Height 76cms. Width 51cms. Depth at feet 26cms. Depth at top 17cms.
ID Code as179a3117
Price £195.00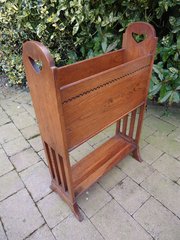 Tall Arts & Crafts plant stand or torchere made in oak with the top being burr oak. Offered in good condition and has a height of 102cms, The top measures 30cms square and the footprint at the base is 43cms.
ID Code as179a3115
Price £195.00
Page :
1
2
3
4
5
Next
© Red House Antiques, 2020